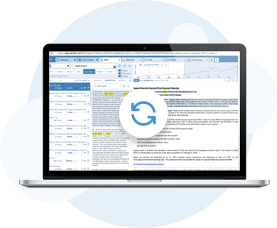 Screener, Social Search & More
The team at Sentieo has been working hard to deliver new features and improvements across the platform. Here are some highlights:
---
Screener: Find actionable ideas
Use DocSearch to identify trends in the market such as companies affected by the China slowdown. Then, use our new Screener to identify potentially mispriced stocks by narrowing down the results based on financial metrics. Our screening tool even allows you to layer multiple financial criteria to remove the chaff. Get up to speed on the new Screener with our tutorial video.
---
Social Search: Market chatter from around the web
The new Social Search feature allows you to stay on top of market-moving news spread through social media. Find relevant Tweets from key influencers in the finance Twitter community. For example, Flotek (FTK) saw its share price plummet after John Hempton of Bronte Capital (@John_Hempton) revealed Bronte's tests regarding the functionality of Flotek's mobile app. Outside of Twitter, Social Search also allows you to find valuable insights from investing blogs and news articles.
---
Other Updates:
Shareable Watchlists
Improved Notebook Sharing
Calendarized Multiples
Reuters Fundamental Data in Plotter
---
Full release notes
View our full April release notes to learn more.