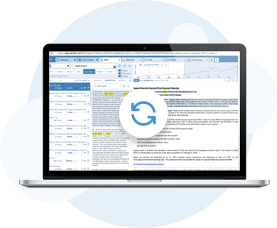 Many improvements across the platform
Our June update comes with many noticeable improvements across the platform as well as few new features. Here are some of the highlights:
---
Improved sync functionality
Changes made to our sync code have solved previous syncing/unsync issues that some users were experiencing. OneNote sync now supports using separate tabs for each one of your tickers. Content from Sentieo will now sync into the respective tab related to a ticker. Notes created within these tabs will automatically be tagged with the appropriate ticker and sync back to Sentieo.
---
More screening options
The screening tool, which we introduced in the last release, now has more criteria from which you can screen from. Filter based on most options that are available in Plotter, as well as more Reuters Fundamental fields. Exporting results to a spreadsheet now supports up to 1000 tickers, up from 30 previously.
---
Other updates include
Doc Search results are now exportable as a .csv spreadsheet
Ability to sort highlight labels by type or chronological order
Improved the quality of institutional shareholder data
New cumulative returns function with start and end date specification in Plotter
Social Search and Stream now have improved curation of key Twitter influencers
---
Full release notes
View our full June release notes to learn more.