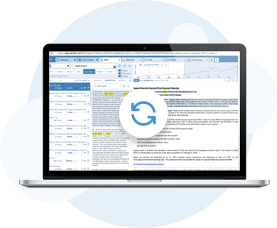 Sentieo v2.4
We're happy to announce that our December update comes with yet more improvements across the entire platform thanks to your continued valuable input. Please don't hesitate to utilize the Live Support with any questions or feedback you may have.
---
Revamped Sentieo Notebook
We are excited to announce enhancements to the Sentieo Notebook. The newly upgraded Notebook is now more powerful and looks better with an intuitive, streamlined design.
The refreshed Notebook is our take on how note-taking should work for analysts. Rather than mimic legacy note-taking interfaces, the Sentieo Notebook offers a better user experience so that analysts can stay focused on what matters most: finding the next winning trade.
With this in mind, we made a number of changes which dramatically improves the usability of the app and have created a product we think analysts will want to use everyday to get work done.
Click here to learn about the new Sentieo Notebook.
---
Complete list of updates
Document Search
Transcripts: More historical transcripts are now available.
Presentations: Some minor improvements to presentation coverage.
View preferences: Ability to change Document Search defaults (instructions) for:

Fit to page view versus Regular view
Whether or not the Preview column is displayed
---
Notebook
Updated user interface: More powerful with an intuitive, streamlined design.
Highlight Selector:

Ability to add highlights to a note without having to search for them across multiple documents.

Evernote Sync:

Fixed all sync and formatting related issues.
---
Web Clipper
---
Mosaic
Customized Sentieo Indices: Can now integrate your own data into Mosaic and the Sentieo Index.
Dashboard: Filter the dashboard on your followed tickers and without sector headers, providing you a sortable view of alternative data across your portfolio.
Google Trends: Google Trends category filters added for ambiguous keywords (e.g. 'express', 'sonic', and 'guess').
Google Trends: Google Trends geographic filters added (e.g. applying US for domestic-only businesses).
KPI mapping: Adjusted brand-level KPI mapping so that only relevant brands are mapped to a ticker's KPI.
---
Equity Data Terminal
Fundamentals section: Improved data quality in our Fundamentals section. We have improved the presentation of line items by simplifying the layout.
[Beta] International Financial Data:We have added UK financial data in this release. Our initial release of international financial data and Fundamentals included the following markets – Canada, France, Germany, Ireland, Spain, Italy, Netherlands and India.
Data Integration: We have integrated our international financial data with our Plotter tool. We have also enabled international tickers to be added on the watchlist.
Insti holdings: No major updates to announce.
Data Quality Improvements:
Improved quality on estimates data by adjusting for any earnings estimates spikes.
Improved quality on market cap, share count data for consolidated entities.
Applied adjustment ratios historically to companies undergoing spin-offs.
---
Screener
​No major updates to announce.
---
Plotter
Snt.io shortlinks: use links to seamlessly share charts in chats, emails, and notes/blog posts (even with non-Sentieo users).
FX: Foreign exchange spot rates have been added.
---
Mobile
iPad App
Offline highlighting and annotating is now enabled in your synced documents.
iPhone App
Just like with iPad, you can select tickers to sync documents for (broker research will be available in a future release) and do offline highlighting and annotating.
iPhone Notebook App
No major updates to announce.
Android App
No major updates to announce.
---
Alerts
No major updates to announce.


---