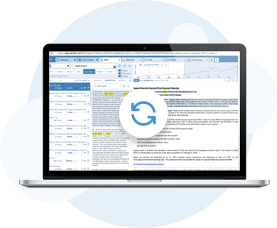 It's been a busy New Years for us here at Sentieo. This release focuses on a large number of quality improvements across the platform and the introduction of some power features. It also lays the groundwork for our upcoming integrated RMS (see below for beta access).
Additionally, we are thrilled to announce the beta release of our native desktop app for Sentieo. The app runs on both Mac and Windows. To get your hands on Sentieo Desktop, please contact success@sentieo.com.
As always, do not hesitate to utilize Live Support for any questions, suggestions or feedback about Sentieo.
You can view all previous release notes here.
---
Introducing Sentieo PowerQuery
The Sentieo Document Search Engine has received another upgrade. Not only is it faster and more powerful but now it is much easier to precisely control.
Sentieo's PowerQuery system introduces new search operators that provide you with finer control over your searches to find what you're looking for without having to sift through unwanted results.
New search features give you the ability to:
Locate terms within a specific distance of each other. This is helpful when searching for terms that may be near each other and you would like finer control over word distance in a search.
Constrain search results to specific sections of a document. Now you can limit your search to specific sections of a document such as the Risk Factors or MD&A sections.
Mix "quotes" and non-quotes in the same query. Specify exact matches by enclosing specific words and phrases in quotes. This allows you to temporarily turn off our synonyms (and stemming), as synonyms (and stems like the plural version of a word) may have nearly the same meaning but not the exact meaning that you are looking for.
Some points to keep in mind:
Search operators must now be capitalized. e.g. AND instead of and. This means you can now paste sentences into Doc Search without triggering unwanted search operators.
Comma (,) is no longer recognized as the Boolean operator "OR". It is ignored.
The syntax for wildcards has changed. For a detailed explanation, see here:

Type PREFIX "abc" instead of abc*
Type WILDCARD "abc?" instead of abc?
Take a look at this document for a more detailed explanation of all the new search operators with examples.
---
Watchlist Manager 2017:
Your Command Center to Customize Sentieo
We have completely revamped the Watchlist Manager, taking into account all of your feedback from last year and adding a wealth of new features that drive everything from your alerts to your news stream to your searches. Oh, and we gave it a facelift! 🙌

New watchlist manager features:
Instead of a simple yes/no toggle, you can now finetune your alert levels from "Key" Filings to "All" Filings (where we filter out high volume insider transaction filings) to even turning on the "Firehose" (where we don't)

Technical Note: Just a reminder, we don't send all 8K's to the Q/K and Key groups (which are managed on an inclusion basis). We categorize 8K's based on their subitem types, and only send those related to Earnings to those groups. If you want Management, Voting, or other types of 8K's, we advise you to subscribe to the All group (which is managed on an exclusion basis).

Alerts for Research Reports and Transcripts have been added (with Presentation and Mosaic alerts on the way!)

Research Report alerts respect broad categorizations of brokers from the smallest Boutiques to the larger Bulge category

Sentieo goes Global: Adding International Stocks is now a breeze!
---
Broker Research Primary Tickers:




Go Deep AND Go Broad



The thing about broker research is, no stock is a vacuum. Every research analyst needs to put stock situations in context, or do industry read-across, or do EPS season previews, etc. On the one hand, that can be very useful when you care about the entire industry picture. On the other, that's a lot of cruft to wade through when you are just trying to nail down one thing on one stock. So when you search for broker research on a stock, there is a perennial debate about whether we should go wide, or go narrow, in terms of tagging the stock tickers.
That debate is now solved with the help of a Primary Ticker flag, which flags if the entire piece is mainly about one stock. You can now restrict your search of our entire database to those reports whose primary tickers are your stock of interest, or you can broaden your search to include all reports that tangentially mention your ticker of interest, for better or for worse. This feature is available under Doc Search Settings> Only include primary tickers.
---
Complete list of updates:
Document Search
New Features
Sentieo PowerQuery: Boolean operators, distance operators, order operators, bounded operators, wildcard searches and quotations now behave differently. View this document for a detailed explanation of the changes.
Arrow key shortcuts:

You can use the left and right keys to navigate between the columns in Document Search (results, snippets, and the document). Use the up and down arrow keys to move between documents and snippets.

Bookmark Documents: Quickly add content to your Sentieo Notebook with the click of a button. This is useful for quickly accessing documents you want to view and markup at a later time. This feature is available under Doc Search Menu > Bookmark.
Improvements & Fixes
There are many filings such as SEC correspondence (UPLOAD and CORRESP) that are PDF files. These documents are now available via Doc Search.

Improved Stitched Tables UI and introduced Tutorial Walkthroughs.

Fixes to Stitched Tables that were missing some columns for no reason.

Page up/down, Home, and End keys have been fixed in the document viewer.

Control+C now works properly.

Many query parsing bugs have been fixed.
---
Notebook
New Features
Upload documents: Conveniently add content to your Sentieo Notebook via the new Document Upload feature. All uploaded content will be stored and made searchable in both Notebook and Doc Search. This feature is available under New Note (dropdown) > Upload Content.
[BETA] Research Management System (RMS): Easily create tear sheets that summarize the key points of your thesis on a stock, keep track of company events, and manage your notes, company related documents and tasks all on one customizable dashboard. Please contact success@sentieo.com

for access.

[BETA] Task Management: Managing deadlines and remembering items on your to do list can be difficult. With the new Sentieo Task Manager, you can add tasks to notes and assign them to yourself or a team member, along with due dates. All tasks are automatically aggregated across your notes and viewable on the ticker's dashboard. Please contact success@sentieo.com

for access.
Improvements & Fixes
This release was focused on resolving a number of minor UI issues and quality enhancements related to the new notebook layout such as:
Auto-populating the list of most frequently used users and groups after clicking on the share menu.

Automatically tagging attachments with the same tickers and tags as the parent note (email).
---
Web Clipper
No major updates to announce.
---
Mosaic
New Features
Brand-level Toggles:

Easily view brand-level data and the corresponding Sentieo Index.

Default Settings:

Set default settings for compared financial metrics, index weight settings, and more.
Improvements & Fixes
Fixed geographic + category filter bug.

Fixed Dashboard followed tickers bug.

Instagram data spikes resolved.
Equity Data Terminal
New Features
Fundamentals section:

We have improved the user interface of fundamental section.

T

he data for NTM and LTM has been substantially improved across the board, as well as that for EBITDA margin for smaller stocks.

[BETA] International Financial Data: We have added financial data on Japan and Hong Kong in this release. Our previous releases of international financial data and fundamentals included the following markets – Canada, France, Germany, Ireland, Spain, Italy, UK and Netherlands. Contact success@sentieo.com for more information.
Index data:

We have added S&P 500 P/E data in EDT
Improvements & Fixes
Improved quality on estimates data and margins.

Live outliers issue has been resolved and the charts have been adjusted for spikes.
---
Screener
No major updates to announce.
---
Plotter
New Features
Added the S&P P/E ratio as a series that can be added to plotter.

Added Standard deviation bands child series.

Hit Rate addition to analysis section.
Improvements & Fixes
Shortlinks copying to clipboard.

Plotter emails to self.

Multivariate Regression bug fixed.
---
Mobile
No major updates to announce.
---
Social Search
Improvements & Fixes
Occasionally, the URLs in Tweets would not work (e.g. parts of the next few characters were included in the URL). This issue has been fixed.
Watchlist Manager
New Features
International Stocks

Transcript Alerts

Research Report Alerts

Alert levels go from binary yes/no to gradations of service based on subscriber feedback
Improvements & Fixes