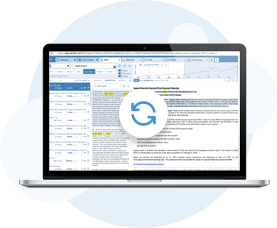 We've updated Sentieo with a variety of minor improvements and a couple of new features. As always, do not hesitate to utilize Live Support for any questions, suggestions or feedback about Sentieo.
You can view all previous release notes here.
---
Custom Redlining
We've added the ability to compare differences between any pair of EDGAR filings- Redlining now works on all EDGAR filing types. Start by copying the Doc ID (Document ID) of the older document to your clipboard. Then, navigate to the newer document and set Redlining to "All Changes". Paste the Doc ID into "Compare With" box.
*NOTE: the redlining menu has moved. Click on the new Redlining icon to access the menu.
---
Sustainability Disclosure reports DB

We've added a new data set to Document Search: Sustainability Disclosure reports. These documents allow investors to analyze how committed companies are towards a sustainable future and how committed they are towards their corporate social responsibility.
*NOTE: This is a premium feature. Please email success@sentieo.com for access. This data set can be found under Document Search → Doc Type → Sustainability Disclosure.
---
Complete list of updates:
Document Search
New Features
Custom Redlining: Compare differences between any pair of EDGAR filings.
New dataset: sustainability disclosure documents.
International Presentations: We have dramatically expanded our international presentations coverage to include the top 1500 MSCI World companies.
Default Search Filter: Ability to set a default search filter for searches performed via the Document Search splash page (the page that appears when a Document Search tab is first created).

To set this default, go to the main Document Search page. Then, click on the filter icon and click on "make default" beside the filter you'd like to set as the default:


*NOTE: This will not change the defaults for the main Document Search page.
---
Notebook
New Features
Settings Menu:

Users have the ability to set note viewing and sharing preferences. These settings can be accessed via the Person icon in the top right of our UI → Settings → Preferences → Notebook.

Sorting options:

Added the ability to sort fields alphabetically or by count.

Comments:

Replying to shared note email notifications will create a comment with the response inside of the note.
Improvements & Fixes
Comments:

Team members can now be mentioned inside of the comment section of a note with @ mentions.

Search bar:

Added the ability to narrow down your list of notes based on multiple criteria.

Evernote:

Fixed a bug that was causing formatting and tagging issues.

Attachments:

Added the ability to delete attachments and uploaded documents.

Tagging:

Added a share and tag bar to attachments.

Note history:

Added the ability to revert your note to any previous version.




---
Mosaic
New Features

Mobile App data from Apptopia: Track mobile app downloads, user growth, and engagement data across apps. Simply enter a ticker and instantly retrieve dashboards and charts around all of its relevant apps.
Custom Data Integrations: Integest your own subscribed datasets via direct upload (as you would in Excel or Tableau) to leverage our ticker-based data visualization and analysis tools. Please contact your sales representative to get setup.
Improvements & Fixes
Improved twitter tagging: added official company handles to improve Twitter data relationships.




---
Equity Data Terminal
New Features
OTC Tickers:

Approximately five thousand OTC tickers were added to our database.

Fundamentals section:

We have introduced semi-annual data to the financial model and financial matrices of International companies with half yearly reporting.

[Beta] International Financial Data:

We have added financial data on China, Singapore, South Korea and Australia in this release. Our previous releases of international financial data and fundamentals included the following markets – Canada, France, Germany, Ireland, Spain, Switzerland, Italy, UK, Netherlands, India, Japan and Hong Kong.

Index data:

S&P 500 P/E data (Current Year, LTM and Next Year) added in EDT and plotter tool. Our previous release included the S&P 500 NTM P/E data.

FX Data:

Currency indexes added to plotter. These include USDX, CFETS RMB Index, RMB Index based on SDR Currency Basket and all BIS Indices, broad and narrow.
Improvements & Fixes
EDT Summary Page:

The summary tab of EDT now has a Mosaic, earnings surprise, and analyst estimate chart. The new "Options" menu item in EDT links to an unaffiliated third-party site to give you convenient access to options data.

Net Debt Calculations:

Made adjustments to Net Debt calculations for financial companies and companies with captive Fincos.

Financial Models:

We have improved the data quality and presentation of segment information within the financial models.

Institutional Holders

: For entities that file both SC 13D and 13F-HR forms (e.g. Carl Icahn), clicking on that entity's name will now go to the 13F-HR summary page for that entity.
---
Table Extraction
New Features
Statements (via Equity Data Terminal or Document Search) now support Stitched Tables. This is an excellent way of putting together financial models based on as-reported numbers. Note that Statements data comes from XBRL, which allows for much cleaner Stitched Tables.
Improvements & Fixes
Stitched Tables now come with first column and row split as panels and frozen so you can scroll to your heart's delight.

Stitched Tables now formats numbers as Excel's Number format rather than the General format.

Fixed reported bugs (please keep sending them in!).
Plotter
New Features
VWAP:

We have added Volume Weighted Average Price (VWAP) series to plotter.
Improvements & Fixes
Fixed shared plotter opening bug.

Fixed shortlinks loading bug.




---
Calendar
Improvements & Fixes
Improved earnings date accuracy.
Watchlist Manager
Improvements & Fixes
Ability to bulk edit tickers within lists.

Ability to configure alerts for your followed tickers in bulk.