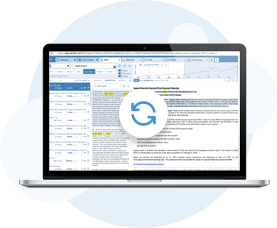 This release comes packed with a number of new features and improvements across the platform, including updates to our core document search technology.
You can view all previous release notes here.
---
Symbol Search
You can now search for symbols such as percentage signs (%) and currency symbols ($ £ €). We will be adding support for additional symbols over time.
Symbol searches can be helpful when searching for dollar values associated with share repurchase programs or to find instances where management talks about sales or margin percentages. Read more here.
---
Construct a search using the new Query Builder

We've added a query builder to make the process of building complex queries more manageable. The query builder allows you to build queries block by block. Read more here.
---
Nested Searches
If your initial search returns too many results, you can search within that particular set of search results. If your initial search is "china slowdown", you can search within that search for "layoffs". Read more here.
---
Expanded Labels
Previously, you were limited to 7 labels. We've done away with that limitation entirely and have also added the ability to create company specific set of labels. Read more here.
---
Federal Reserve Documents
FOMC meetings minutes, statements, press conference projection materials, and speeches can be found under the ticker FED-RES. Read more here.
---
Default Plotter templates
We are now providing users with a default set of ten templates to be used on Plotter. Templates are useful to replicate the same graph across multiple tickers.
To load a template, go into the template menu of the Plotter, then into Default Templates.
All fields then are created automatically, all that is left is to enter the tickers required and press "Add Series". You can create your templates too by pressing "Save As Template" in the "Save" menu.
---
Complete list of updates:
Document Search
New Features
Symbol Search: look for percentage signs (%) and currency symbols ($ £ €).
Query Builder: Build complex queries with a visual interface.
Refine Search: Search within a search.
Expanded labels: Unlimited labels for your highlights.
Federal Reserve Documents: Now available on Doc Search.
Improvements & Fixes
Added documents for select tickers that were previously missing from our system.
---
Notebook
New Features
Sector and region auto-tagging: Notes that contain a ticker will now auto-map companies to the appropriate sector and region. Ex: a note tagged with AAPL will automatically be mapped to the Information Technology Sector and will also appear under the United States Region.
Filter notes by date: Ability to search your notes by date they were created. This can also be helpful for bulk exporting notes based on time period and saving them all into a single PDF.
Additional highlight label support: Users now have the ability to store more than 7 highlight labels at a time.
Add multiple labels to highlights: Multiple highlight labels can now be assigned to selections of text.
Improvements & Fixes
OneNote Sync 2.0: The new sync introduces the ability to support two-way content sync across ALL your OneNote notebooks. Please contact success@sentieo.com if you would like to access this feature.
[BETA] Research Management System: We've released a massive update to our research dashboard. If you would like access to this feature, please contact success@sentieo.com
Additional filter options: Watchlists, Sector, and Regions have been added as new filter options.
Insert Highlights label filter: Filters now refresh to reflect any tickers inputted in the Ticker field.
Many other general minor fixes and improvements.


---
Mosaic
New Features
Mosaic alerts: receive a weekly email to surface alternative data movements ahead of earnings prints: Automated email will be complemented by commentary on specific situations. Want us to look into a name? Just contact your sales rep.
Custom excel data upload via excel: simply drop in a csv, utilize our pre-built parsers, and see your data flow through to all parts of Mosaic
KPI Estimates Integration: integrated estimates data for company-level KPI series (e.g. Same Store Sales).
Improvements & Fixes
Sorting: Fixed Dashboard sorting bug.
Blank Values: Fixed blank values bug on certain tickers.


---
Equity Data Terminal
New Features
[BETA] International Financial Data: We continue to expand our non-US coverage and we have now added data for New Zealand, Brazil and South Africa. Our international financial data coverage also includes Canada, France, Germany, Ireland, Spain, Switzerland, Italy, UK, Netherlands, India, Japan, Hong Kong, China, Singapore, South Korea and Australia.
Improvements & Fixes
EDT Summary page: The summary tab of EDT now has a new header which makes access to the most useful information easier. It includes stock price data, key metrics, and share price performance stacked against that of the industry and the market index.
Are you checking the right ticker?: The new header also reminds users when other tickers for the same company exist, making it easy to switch between share classes or trading markets where applicable.
Financial model: We brought several design changes to improve the financial model readability.
Small cap coverage: We expanded our US company database by adding over 100 small cap tickers.
Several data fixes.
---
Table Extraction
New Features
ADR Support: TableX now works with ADR's! 6K's and 20F's now have the same Similar Tables and Time Series logic as the 8K/10Q/10K's.
Sensitivity Adjustment: Some tables require stricter matching to match up the right rows, whereas others require a looser definition to avoid rows and rows of unmatched blank rows. Multiple Sensitivities are now enabled on Table matching!
Improvements & Fixes
Bugs: Multiple small table display and time series bugs fixed. PLEASE continue to use the report issue button (or pull up the chat!) to send these in. Any description of the problem will help go a long way to adjusting our algorithms.
Export to Excel: Time Series now exports to Excel in chronological order instead of reverse chron – we hear you! Sorry about the bad default setting.


---
Plotter
New Features
Saved CSV manager: store all uploaded CSVs and more easily call specific series from each one.
Factset KPI Data: integrated headline Factset KPI data along with analyst estimates.
Default Templates:A library of ten default templates is now available to all users. These can be used as such or as a starting point to build more complex graphs. We will be adding more templates over time.
Improvements & Fixes
CSV upload: Fixed time series CSV upload bug.




---
Screener
New Features
International data: Now on Screener (beta).
Currencies: Screener now handles Foreign Exchange, so you can display the financial data in any of the seven different currencies currently available (list to expand soon).
Regions: We added the ability to filter data by region and country.
Hybrid series: It is now possible to create new screening series based on user defined formulas and existing metrics. (eg: metric A + metric B / metric C)
Improvements & Fixes
New fields: We included several new useful fields in response to user requests, including the number of employees and Price / Book Value.


---
Excel Plugin
New Features
New major redesign of the formula builder: It now has a cleaner, more intuitive and modern design. It does not disrupt the workflow anymore, as it can be kept open while working on a spreadsheet.
Detailed Formula descriptions: the formula builder now incorporates a full description of the fields available to make it easier to find the desired field.
Mosaic is here!: The Mosaic index and social media data are now available on Excel
Other new fields include: currency (of a stock), payable turns
[BETA] International Data: In line with the rest of the platform, we are releasing the access to non-US stocks to our Excel users. (beta – use with caution)
Improvements & Fixes
Gross return and Total return: It is now possible to distinctively call for both Gross return (stock price performance) as well Total return (inc.dividend reinvestment).
Other new optional fields: LTM (Last Twelve Month), NTM(Next Twelve Month), min (minimum value of a series), max (maximum value of a series), mean (of a series), median (of a series), sd (standard deviation of a series).
Regional preferences: Dates are now handled as per the regional settings of your computer. E.g. dates will be shown as dd-mmm-yyyy in Europe.
In formula builder: you can now copy the created formula to the clipboard instead of just pasting into the selected cell.
Improvements and bug fixes to the Windows plugin installer to address previous updates and temp cache issues.


---

Mobile

New Features


MAJOR update: iPhone app v5 is here! 🎺🎺🎺

iPhone offline support: Sync SEC filings for offline use. If you have trouble sleeping on the plane to your next conference, you can now pull up annual reports to help with that.
iPhone highlighting: Highlighting and annotating is also enabled while in offline mode.
iPhone international content: International financial data, news, and filings are now available.
Improvements & Fixes
UI: Complete UI revamp of the iOS Mobile Clipper.
Updated onboarding and alert view flows.
Security Upgrades: Added 2FA support.
Security Upgrades: Touch ID authentication.
Various iPhone Notebook bugs addressed.
---
Web Clipper
Improvements & Fixes
Auto sign out: Fixed an issue where users were required to sign back in.